Dining in under Covid-19 Traffic Light System - Orange
Vaccine Passport & Face Mask Mandatory . . .
In line with government regulations and guidelines for restaurants we will be open for dine in and takeways under the traffic light system - orange.
People dining in will be required to be fully vaccinated and be able to show a vaccine passport for scanning with the vaccine passport app. You are also required to wear a face mask until seated.
We have to space you apart further so there will be less room for diners. Therefore please book to ensure you get a seat at Motueka's favourite Indian;-)
Please scan in and use contactless payments only.
Beautiful!
Traffic Light System guidance - please click here
Takeaways under Covid-19 Traffic Light System - Orange
Contactless payments only please - please wear a face mask while in our restaurant
If you are vaccinated and have a vaccine passport available for us to scan, then please enter our restaurant wearing a face mask to order and collect your takeaway. Please don't forget to scan in, and that payment should be contactless.
People not vaccinated will be able to order takeaways by phone and collect from our front door. You will not be able to enter our restaurant. You will be required to wear a face mask while interacting with our staff. Payment will be contactless.
Thanks, we really do appreciate your understanding and co-operation. Sabin and staff. And of course your continued support!
Motueka's Indian Restaurant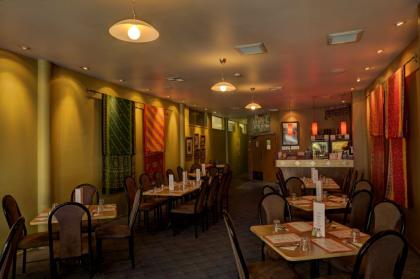 Dine in at Simply Indian restaurant, Motueka - Image ©
NAMASTE! And welcome to Simply Indian
Simply Indian has been serving fine Indian cuisine for over fifteen years to Motueka's locals and many visitors.
Mouth-watering authentic Indian dishes, prepared by trained and experienced Indian chefs, for you to relish and enjoy. Not forgetting an ice cold Kingfisher to get your meal off to a good start.
Our bar has a good selection of wines and soft drinks too.
Sabin and all the staff look forward to welcoming you.
$13 Lunchtime Specials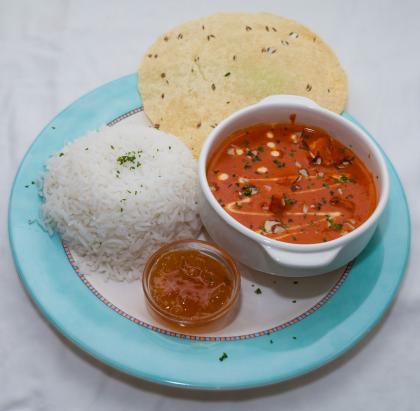 $13 Lunchtime Specials - Image ©
Yes, that's right - $13.00 for a delicious meal.
Served between 11am and 2pm every day, except Sundays.
Meet Our Chefs

Deepchand - chef incharge, Laxman Chand - chef, Dhan Prakash Nautiyal - chef - Image ©
Our three, talented and highly professional chefs have a passion for preparing the most delicious and enjoyable meals.